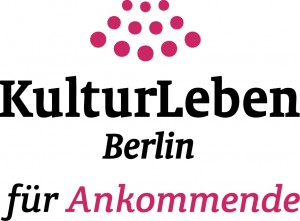 Establishment of a coordinating and networking office for volunteer refugee work to enable cultural and social participation of refugees in Berlin
Project duration: 1.1.2016 – 31.12.2018
Since 01.01.2016 KulturLeben has been receiving a project grant from Aktion Mensch for three years. The aim is to set up a coordination and networking office for refugees on the basis of volunteering. We would like to promote the cultural participation for people on the run and further strengthen the welcome culture in Berlin.
Support from refugee aid partners and Berlin cultural organizers
KulturLeben Berlin works together with numerous refugee aid organizations. These include local initiatives of welcoming culture, social partner institutions (refugee homes, counseling centers, community colleges, etc.), partners in administration and politics, external educational institutions and over 400 cultural institutions. The project will attract more partners from different sectors of society. The Coordination and Networking Unit will serve as a communicative platform for refugee aid and cultural sector disseminators and promote the exchange of sectors
Trust as the key to culture
Refugees are often traumatized and experience a great loss of trust in their current environment and also in themselves. Many suffer from temporary or permanent psychosomatic illnesses. Traumas and lost trust limit people's freedom of action and opportunities for participation.
There are also existentially urgent problem situations with which refugees find themselves confronted with their new place of life. Depression and lack of prospects often make it difficult for people to conquer new (cultural) places of their own accord, even if there is a fundamental interest in culture. Last but not least, language barriers play a role. In order to build confidence in the refugee cultural guests, to reduce barriers to access and to make cultural participation possible, we have developed different ways of communication, which are presented below.
Cultural mediation for refugees
One focus of our project is on the personal telephone placement of free cultural spaces for people with experience of getting away. These include individuals as well as families or groups. Only through personal encounter can we build trust and win new cultural guests. With the support of our partners we are regularly present in different places to present our project and to welcome new cultural guests.
refugee shelters
Initiatives of Welcome Culture
Language schools and integration classes
Food dispensers of loaf and soul
Assistants with fleeing or migrant backgrounds, who are integrated into the team as volunteers, help us to overcome language barriers in the admission of new cultural guests and in card brokering. Many people are more likely to trust and are more likely to be motivated to attend a cultural event when compatriots in their own language invite visitors to a cultural event. Through our multilingual team we offer cultural mediation in Arabic, Farsi, English, French, Spanish and Yoruba.
Cultural accompaniment as a bridge
Our goal is to help refugees with personal needs to get to know and experience their social and cultural environment so that they gradually reduce their fears and barriers and, at least in some areas of life, acquire new independence. In order to reduce inhibitions and familiarize the newcomers with the cultural landscape of Berlin, we have set up a cultural accompaniment working group for refugees. On request, citizens interested in Berlin accompany cultural and sporting events once or twice a month. The "home advantage" of the cultural facilitators gives the newly arrived security and at the same time offers both sides the opportunity to exchange experiences and to get to know each other better.
Volunteer cultural ambassadors

People with experience living in Berlin, who live longer in Berlin and know the city, can also volunteer at KulturLeben Berlin. As cultural ambassadors, they are active in refugee homes or within their circle of friends and family and help other refugees register as cultural guests. In addition, they introduce the newcomers as cultural facilitators to the Berlin cultural landscape.
Own projects – events and workshops for and with refugees
There are many reasons why it is difficult for refugees to participate in Berlin's cultural landscape. For this reason, in cooperation with refugee aid partners, we organize our own music, art or sports projects, through which we would like to motivate people with experience of escape to become artistically or athletically active together with other refugees and with Berliners. Because within a group it is easier to get involved in new encounters and experiences, to reduce fears and to conquer new (cultural) spaces. Cultural workers among the refugees, we offer the opportunity to publicly show their art.
An overview of our current projects can be found at www.kulturleben-berlin.de/projekte
---
The project description in English and German can be found here:

Project Description AKTION MENSCH (English)
Project Description AKTION MENSCH (German)

The registration flyer for guests with flight experience can be found here:
KulturLeben Berlin_Flyer Aktion Mensch (German)
Please note: Our registration flyer is currently being processed and will be available online again shortly.
---
Culture is good – cultural participation for refugees and health
Through the exchange with our cultists and social partner organizations, we know that cultural participation can sustainably improve the mental and physical well-being of refugees in difficult social situations. In order for people in difficult circumstances to get involved in the "adventure culture", they need special attention, positive ways of giving, personal motivation and time. The personal invitation to the cultural event proves to be a key factor, especially for refugees, to reduce threshold fears and initiate a process of change and openness. Cultural experiences can have a lasting effect and have a decisive influence on personal quality of life. A strengthening of self-confidence and independence goes hand in hand, so that opens up new perspectives and creative possibilities for one's own life.
The theme "KulturLeben Berlin is doing well – cultural participation and health" was the focus of our annual press conferences in 2017 and 2018. Download the press kits here:
Press Kit Annual Press Conference KulturLeben Berlin 2018 (German)
Press Kit Annual Press Conference KulturLeben Berlin 2017 (German)
The interdisciplinary research group of TechEnergy for Africa eV, in cooperation with the Heinrich Heine University Düsseldorf and KulturLeben Berlin 2017, has scientifically investigated how cultural participation affects people in vulnerable life situations in the CASTLE study (Cultural Space for a Healthy Life). The study was conducted by the doctor and health scientist Dr. med. med. Beatrice Moreno MPH performed using the methods of Health Technology Assessment (HTA).
At KulturLeben Berlin's annual press conference in 2018, the results of the CASTLE study (Cultural Space for a Healthy Life) by Dr. Ing. med. Beatrice Moreno MPH publicly presented.
Summary of Study Results: HTA Study Cultural Participation and Health Med Beatrice Moreno MPA (German)
---
Contact
Jana Vrubelova
Projektleitung
Tel.: 030 / 31 16 26 49
vrubelova@kulturleben-berlin.de
________________________________________________________________________